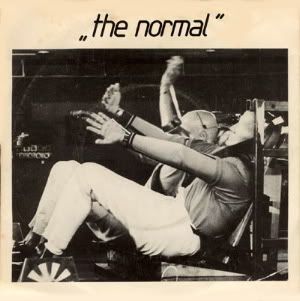 Daniel Miller is best-known for his behind-the-scenes work as producer for early-period Depeche Mode, as well as his role as founder of experimental/industrial label Mute -- but he also released some excellent material as an artist in his own right.

As "The Normal," Miller used the sharp and piercing sounds of early electronic instruments to full effect on 1978's "Warm Leatherette," a futuristic noire whiplash inspired by J.G. Ballard's car-crash-fetish novel Crash. You've all heard the song - it's been covered by everyone and their mother (Grace Jones, Chicks on Speed, Vitalic etc). Here's the original.

The Normal - Warm Leatherette




Somewhat more obscure is his subsequent work as Silicon Teens, a completely fabricated group that he invented to take responsibility for Music for Parties, an album of electronic versions of 50's and 60's rock tunes. The covers are cutesy and fun, but the best tracks from the album are the three original songs - including this one with vocals by one-time Depeche Mode tour-manager Daryl Bamonte

Silicon Teens - Sun Flight

Bonus - video for Silicon Teens' version of "Memphis Tennesse"