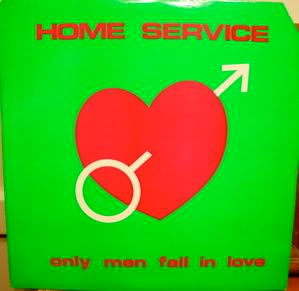 Home Service was a short-lived project by David Motion and David Fraser that bore several releases on their own label Crystal Groove Records as well as a 7" single of "Only Men Fall in Love" on the Beggars Banquet subsidiary Situation 2.

Alhtough Home Service didn't last long, Motion became enamored with the recording process during the Home Service project, and went on to become a successful producer, recruited to produce a number of bands including Strawberry Switchblade. He talks a bit about Home Service and his beginnings as a producer in an interview on the Strawberry Switchblade site. More recently he's scored films and produced a number of ditties for commercials - full bio on his music career here. And, you can listen to some of his current work on his Myspace. It's super interesting to me that someone behind such a leftfield track as OMFIL would go on to make music for mainstream commercials. But I guess a lot of musicians have that trajectory.

This is actually ripped from a 12" of OMFIL that US label Cachalot released in 1981. It's played pitched way down, beecause playing it at it's intended full 45 was WAY TOO FAST! I Can't believe it's that fast, and now understand why Andrew over at Lovefingers posted it at 33 a while back.

Home Service - Only Men Fall in Love
Home Service - O.M.F.I.L.

Bonerus - A whole shitload of Strawberry Switchblade demos, Peel Sessions, outtakes etc. available for download on the Strawberry Switchblade Site. Good stuff!!