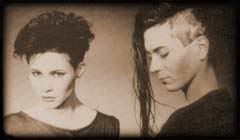 Consummate French coldwavers KaS Product are, well, ice cold. They sing songs about cold people who are dead on the inside, they have frosty dentine ice breath, they dance in abandoned industrial factories, and they have the coolest hair all the damn time.

At their best, KaS Product sound like what Siouxsie and the Banshees might have if they had been produced by DAF. "So Young But So Cold," from their 1982 debut LP Try Out, has become something of a poster track for coldwave, and was the namesake of Tigersushi's 2004 coldwave compendium So Young But So Cold: Underground French Music 1977-1983.

Kas Product - So Young But So Cold

At their worst (which is kind of the best), singer Mona Soyoc's jazz-background-influenced histrionics overpower everything and land them in the realm of schmaltzy cabaret schtick. The raunchy little role playing bit she has with her, erm, pussy cat in "Pussy X" is exactly what I'm talking about. If you can stand this sort of thing, it's actually really amazing and hilarious.

Kas Product - Pussy X

See the hair in action below in the 1982 video for "Never Come Back." Electroclash kids eat your asymmetrical hearts out.