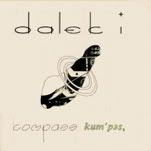 Dalek I Love You were a synth-pop band that formed in Liverpool in 1977. The name is the result of a band compromise, a combination of Dalek, the evil alien mutants from Dr. Who, and "Darling, I Love You." I'll butcher history by paraphrasing that in their few early years they shared and lost members to The Teardrop Explodes and OMD, and by the time they released their debut album Compass Kumpass (1980) they were a duo, Alan Gill and Dave Hughes.

For the release of the album, the sneaky petes at Phonogram shortened the band's name to Dalek i without even telling them. Compass did well in the UK, reaching #54 on the pop charts, but didn't receive a whif of attention elsewhere. NME writer Andy Gill reviewed the record upon its release:

"A prime example of living-room music construction, it features catchy,
interlinking little riffs over a plodding beat formed by combining
elements of both drums and drum-machines and Gill's calmly urgent
vocals. Ingeniously simple but infuriatingly infectious -- rather like
an adult Human League on speed -- "Freedom Fighters" is one of the
year's best singles so far, and from what I heard of their other
material, there's plenty more where that came from."

Dalek i - Destiny (Dalek I Love You)
Dalek i - Freedom Fighters
Dalek i - Mad
Dalek i - Good Times
Dalek i - Heat

And that was it for the initial period of the band. Get the exhaustive, unbutchered full story on Dalek I Love You here.